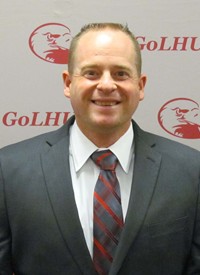 Head Baseball Coach
Jim Chester
The 2016 season will mark the second for Jim Chester as the head coach of the Bald Eagles.
Chester was hired to take over the program in August 2014 and is coming off his first season as the helm of the program.
In 2015, after being picked to finish last in the PSAC East, the Bald Eagle finished tied for fifth. The Bald Eagles narrowly missed the PSAC Tournament in the final weekend, while winning their second series of the season versus Kutztown. The fifth-place finish was the highest finish since their last PSAC playoff berth in 2009.
Three Bald Eagles landed on the 2015 All-PSAC East squad, while Freshman Justin Sleigh was recognized on the ABCA All-Region Team.
In July, 2015, Chester traveled to Cambodia with the Fellowship of Christian Athletes, helping to organize and run baseball clinics.
Chester came to LHU after a sensational coaching stint at Penn State University Greater Allegany in McKeesport, Pennsylvania, bringing with him a noted history of success and strong recruiting ties.
In seven seasons at Penn State Greater Allegheny, Chester amassed an impressive 234-129-1 (.644 winning percentage) record. His teams went 122-28 (.813 winning percentage) in Penn State University Athletic Conference (PSUAC) play.
Chester led Penn State Greater Allegheny to four PSUAC League championships (2010, '11, '13 & '14) and three PSUAC Tournament titles (2011, '13 & '14). He was named the conference's coach of the year three times (2010, '11 & '14) and Chester was named the 2011 Chuck Tanner Collegiate Manager of the Year alongside, former Major League manager Jim Leyland. In 2013 Greater Allegheny advanced to the United States Collegiate Athletic Association (USCAA) World Series, where it finished as national runner-up.
During his time at Penn State Greater Allegheny, Chester guided 37 players to All-Conference honors and 24 players to All-American status. Over the last eight seasons, 56 Penn State Greater Allegheny players have earned PSUAC All-Academic honors and 11 players have earned National All-Academic status.
While at Penn State Greater Allegheny, Chester also served as the Director of Athletics, where he oversaw 10 intercollegiate programs and 123 student-athletes. Chester was in charge of academics, facilities, sports information, game management and summer camps. He played a vital role in the planning that led to the addition of women's basketball, men's & women's cross country, men's & women's soccer and wrestling at PSUGA.
Chester is an active member of the American Baseball Coaches Association (ABCA). He is a 2003 graduate of Thiel College, earning a Bachelor of Arts in Psychology. Chester earned a master's degree in Business Administration in 2005 from Seton Hill University.
Chester was a four-year letterman at Thiel, earning All-Region status in 2003.